South West Idaho STEM Hub (SWISH)
The SWISH (South West Idaho STEM Hub) ecosystem looks to provide collaboration and innovation between partners to provide equitable opportunities and inspire a future STEM workforce.
We look to accomplish this through focus on our primary goals of:
Collaborative
We believe connection and action are critical components to engaging the robust and diverse STEM resources in our region and we want to foster the partnerships that make it happen!
Engagement
We seek to provide a platform to drive the recognized need and interest in a STEM work force forward in our region.
Advancement
We want to build upon the resources already in place while seeking to maximize their outreach and impact.
Advocacy
We seek to lift up the dedicated STEM champions in our region while providing avenues for their continued success
What you can get from SWISH:
A Hub is loosely defined as center platform that connects multiple resources that share a common goal. And that's exactly what we are! There has never been a more pressing time for a STEM educated workforce and our region is in a great position to fill that need. Idaho anticipates 20 percent job growth in STEM careers, including health care, computing, engineering, and advanced manufacturing within the next four years. So, the time is now to utilize the abundant STEM resources and passions throughout our region to build the needed STEM talent pipeline now through the STEM Learning Ecosystems Initiative:
The STEM Learning Ecosystems Initiative provides the support to help local stakeholders with a common goal align their efforts to maximize results for kids, teachers and parents—and to create systemic change in how the community prepares students for success through STEM.
By relying on coordination between unlikely partners—such as school districts, teachers, parents, higher education institutions and informal STEM programs, each Ecosystem can transform the local infrastructure for ensuring more students, particularly underserved and underrepresented students, develop the knowledge and skills they need to succeed.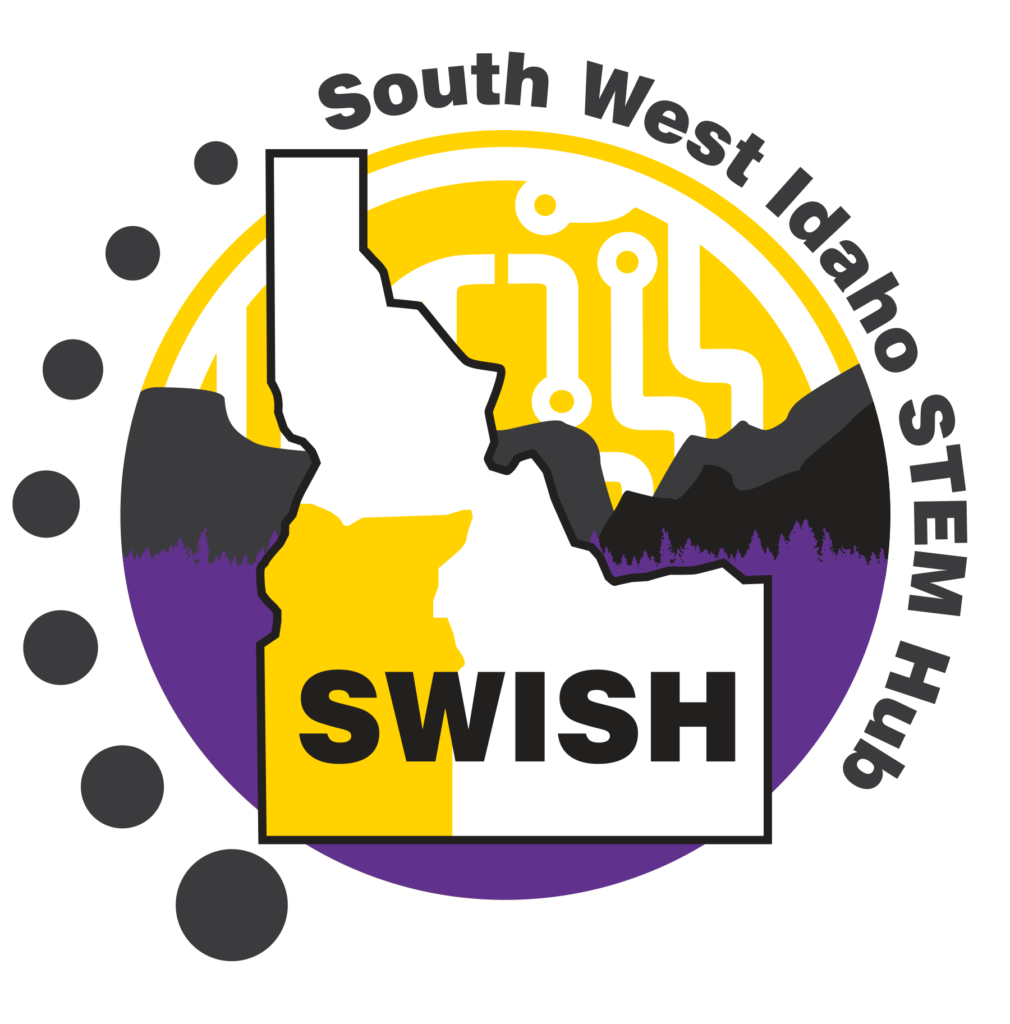 Want to learn more? Do you have a passion for STEM learning? Get Involved! We want to hear from you, our HUB is made up of community members from every background so please reach out with an idea, initiative, or question. Reach out to our leadership team to be connected to HUB meetings:
ReBekha Lulu
Regional Hub SWISH Coordinator
rebekha@idahostem.org 
Follow SWISH on Facebook!
EcosySTEM partners have already started to engage in collective work to strengthen Idaho STEM from cradle to career!  Making a commitment statement shows your organizations support the collective work of the EcosySTEM.
Submit your commitment statement to Erica Compton.
If you are struggling to find the right words to form your commitment statement, these resources might help. The first is a google doc that provides a word template and sample statements which can be found here: Commitment Examples. The other is called Commitment Wizard, which is offered by CSforALL. With this tool you simply answer a short series of questions, and it generates a commitment statement for you!